Karlovy Lazne in Prague is the largest club, located on the territory of Central Europe. It is located in the center of town, next to the famous Charles Bridge.In the five-story clubhouse are several dance halls, a cafe «Music Café" and the bar. The club is popular with young people - the average age of visitors - 20 years. The main attraction of the club - its historic interior, created in 14-15 century. Karlovy Lazne - the only music club in the Czech Republic, where the three-color laser installed. In addition, all floors of the club have EAW loudspeakers
According to the magazine MONDO, Prague club Karlovy Lazne - one of the best in terms of equipment clubs in Europe.A ticket for passage to the club Karlovy Lazne CZK 50 - 21.00, and later that hour - 120 CZK.
We went there because this is the Club in Central Europe, but do not expect to see large rooms, high ceilings - it's Club, which has 5 floors and is filled with young people dancing in the old swimming pools (yes, the old pools are dry, and you dance in swimming pools). Well, the good thing: it is very cheap (if you are coming from Western Europe), with a lot of people, it's great, you can think about from room to room, the music is different on each floor, they have WI-FI in some every corner. and so the good things: it's dirty, the toilets were in a terrible state, with urine and waste everywhere, the situation is erased, the cupboard was on the top floor,.
I was here in December, and it was very hot inside, I can not imagine how it is there in the summer because there is no ventilation or air conditioning in the field of view, and people do still continue to smoke in nightclubs in Prague, well, in general, you'll see :-)) among all between 18-22, or barely legal: - )) Given that I have to admit that I liked it, I read some reviews about the club, and I knew what to expect :-)) it was an interesting experience.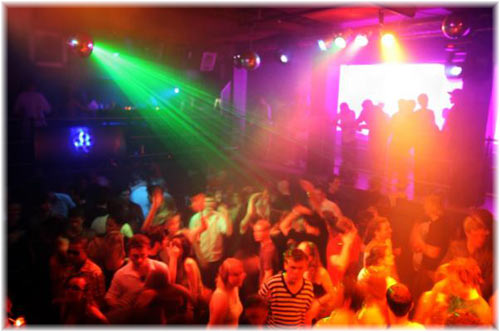 Location: Czech Republic, Prague, Smetanove Nabrezi 198, Old Town
Website:
http://www.karlovylazne.cz