Do you think that the French did not so depraved as they like to talk about myself? Visit the Pink Paradise - the club in the heart of Paris, founded by the famous Dj David Guetta (David Guetta) and his wife, Cathy. Here in the middle of the night you can meet French politicians and celebrities, and they do not hide their love for this place. On the contrary, a visit to a Parisian Pink Paradise - a great honor and a sign of good taste.
Bon Ton celebrities not only show in the hall, but also on the scene - in erotic show club participated even Laetitia Casta and Sophie Marceau. The fact that the Pink Paradise managed to create such an erotic show, which is really admirable and extremely far from the debauchery. That is why ballet Pink Paradise successful tours around the world, Pink Paradise School (school strip tease in the club) is literally breaking from wanting to take a course.
The club is very smart and offers as well as standard table dancing a set of very discrete VIP rooms. Parisian nightlife is traditionally very late night but the Pink Paradise opens at 7pm 3 nights a week as the "Pink Coyote" bar featuring sexy cowgirls dancing on the bar serving tequila etc as a preview of the club itself. While the club operates to the US format it retains a unique French style.As well as the Paris club the company operates during festivals and in the summer in both St Tropez and Cannes and also supplies teams of dancers on tour to other European clubs.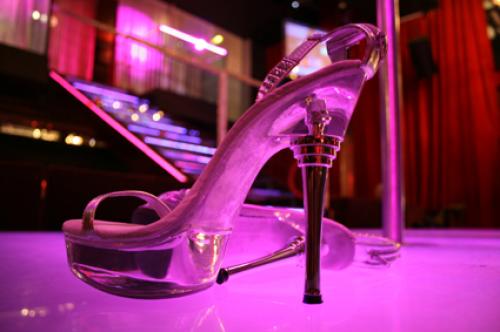 Address: 49-51 Rue de Ponthieu, 75008 Paris
Tel.: + 33 (1) 58 36 19 20